I have been looking over my new to me Sears/Brinly 3 point plow for several week while waiting for some parts to arrive. Here is what it looked like when I got it.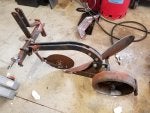 The first thing I did was order new Cat 0 pins. The PO had drilled out the holes in the plow for Cat 1 pins so I order a Cat 1 to Cat 0 pins from Ebay. They arrived the other day so now I could spend some time fixing what was wrong with the plow. This plow was used be a big tractor then a GT so it has sustained from damage. Here are the old and new pins.
The lower pin hole for the mast assembly was bent so I used my 20 ton press and bent it back into shape.
I also notice the PO has cut the one side of the top link mast off and then welded it back on. Not sure why? Maybe it was bent as well and the only way they could fix it was cut it off and weld it back somewhat strait.
Next up was to remove the coulter blade to straiten the rod holding the coulter. I also greased the coulter and added some washer and a new carter pin to hold coulter to the fork. I also grease the gauge wheel as well. They both were dry as a bone.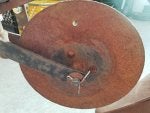 I got it all but back together and I had to put it on my Cub 1811.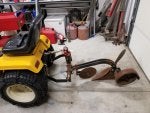 I'm anxious to try her out this spring when the ground thaws out! I've never plowed before so I've got the owner manual for the plow and I'll read it more thoroughly when I need to get it set up.
One question that I do have for those people that own this same type of plow.
Does this piece of rod that is welded in-between the beam belong there????