Discussion Starter
·
#1
·
I would like some advice on how best to remove drive hub 1713459 (ref. 61 ) from a Bolens 600 Husky .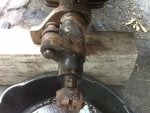 I have tried heavy hammer with brass rod , and mapp gas torch , pb blaster , with little success , I don't want to hit it very hard to avoild breaking flange of free floating drive pin with a miss hit ,could fracture it.
New guy
Best regards and thank for any advice.