Discussion Starter
·
#1
·
Last fall I borrowed a mini excavator from a friend, and posted about it
HERE
. On Wednesday, I gave Harry a call and asked to borrow the machine; he told me he would drop it off the next day. I was expecting to get home from school and see it sittingin the yard waiting for me... it was not. I knew there was a reason, and would not just blow me off, so Iwaited for him to call me. Yesterday morning he called and said a well line broke someplace and needed to be fixed ASAP, and he would bring it in the next day or two. Today he was backing into the driveway with the excavator in tow on a trailer. He said it could stay at my house until he needed it again, or until I ran out of gas; then he paused and said with a grin "or until you get bored with it." :rolling:
He left and I hopped right on so I could go dig a few drains to get rid of some flooding, and take a tree out of the stream, after a while it would have dammed it.
Here is the tree that had fallen into the water a month ago or so.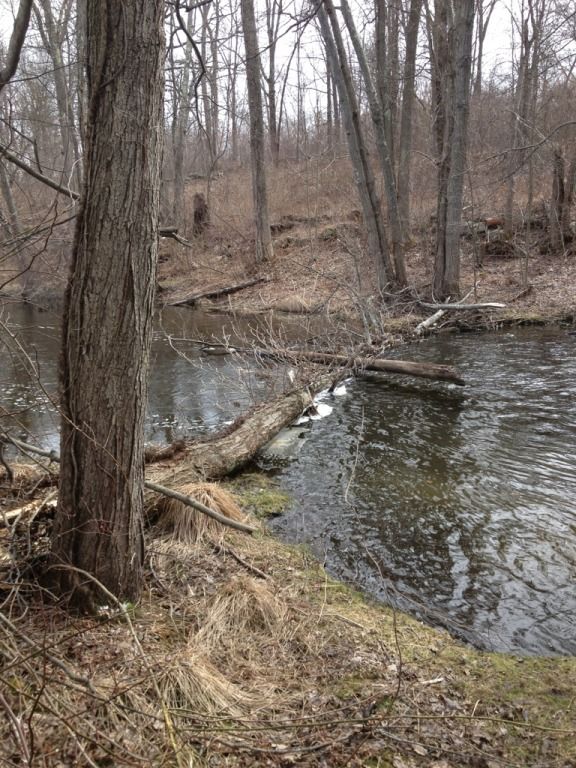 It came out pretty easy, I just had to drag it some, cut off about 6 feet, drag it again, cut off 6 feet, and repeat untill it was out. I will go back out once the wood has dried off and cut it up for firewood.
Digging the few drains only took a few minutes, combined the tree and drains took about an hour and a half.
Right now, my prtable garage is in a pretty bad spot; it takes up a lot of space and although it is not in the middle of my back yard, it is close. I plan to dig out a large section of a hill bordeing one side of the yard this summer. Until then, I decided to dig out one small spot to get the garage moved at least a little.
Before I could start digging, I had to cut down two trees, both maple. The first tree was about 6 inches wide and came down easily. The next was about 15 inches wide. For the second tree it was a tight spot to fall it, but I thought I could do it. I have had a Ropar RT-16 belonging to neighbor Dave's dad at my house since last summer for repairs; it was to one side of where I was going to fall the tree. I should have moved the tractor, but I had been outside since 7:30 so I was beond worn out, and I had only been eating frozen grapes throughout the day, so I was hungry. Those two things triggered an arrogance and laziness that caused me to ill think, and I left the tractor. I had put a come-a-long high in the tree and pulled it as much as I could in the direction I wanted it to go. The tree started to fall in the right direction, but since trees always grow as they fall... it rubbed branches with the anchor tree and was pushed onto the Ropar, as well as a bunch of other stuff I had there. No damage was done... except to the steering wheel, which I could have straightened out.
After the tree had fallen, I cut off the small branches, and shortened a few main ones. I then went to get the excator so I could move the tree off the tractor, and call it a day. I had not cut enough of the tree up and it was still to heavy for the excavator's grip, so it fell again... back onto the Ropar. This time is bent the steering wheel staight over, damages the hood some, and bent the seat bracket.
After damaging the tractor twice, I cut the tree up agian, and finally got it off of the tractor. Once it was off, I shut the machine down right there, grabbed my saw and went inside. I decided I had enough excitement for the day.