I installed one of these on my Economy Tractor when I first got it and have liked the idea of keeping the battery sealed up and the terminals unexposed. The box is made by Attwood and I bought it from iboats.net.
In order for it to fit, I had to resort to a smaller lawn and garden battery. A regular automotive sized battery box will definitely not fit, FYI. Like I did before, I purchased the largest cranking amp L&G battery that I could find and it spins it over just fine.
I hard mounted it to the tractor vs. the little plastic hold downs these boxes come with. It took some trial and error determining the cable routing in order to get the lid to fit but I think I've got it as good as it's going to get.
Lawn and Garden batteries are not setup for automotive style battery clamps. Like I did before, I purchased a set of auto style terminals and attached them to the L&G battery so that it would work. I've been running my Economy Tractor with this setup for years now and have had zero issues.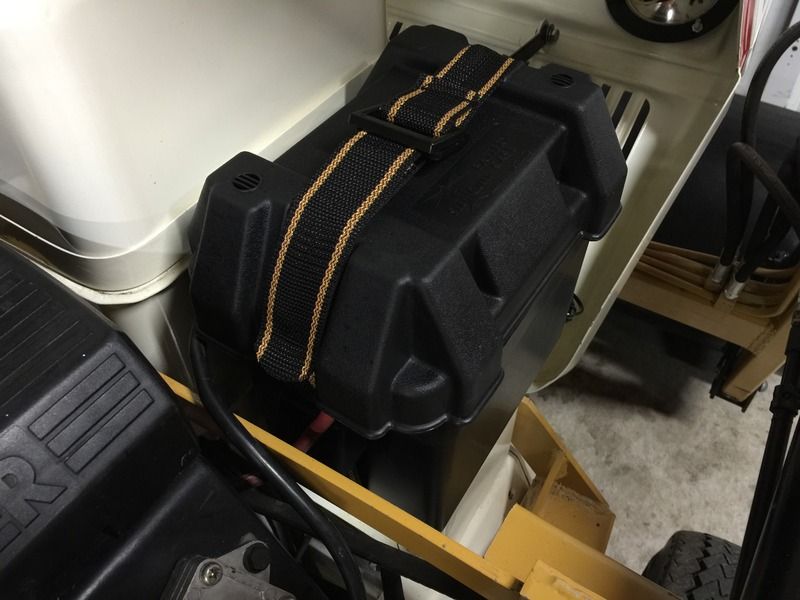 Like I said, there was no way a big automotive style battery box was fitting in there.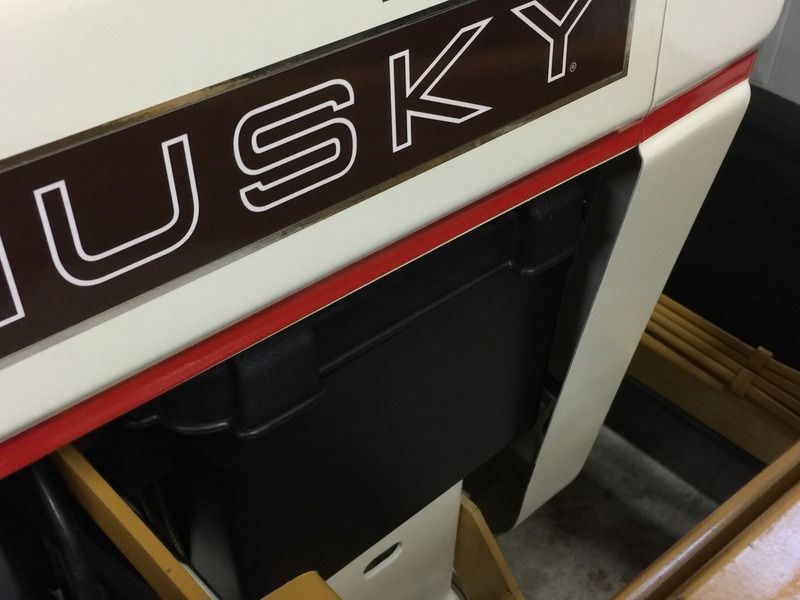 So long, Husky man
So long good buddy, you'll not be forgotten. As I explained earlier, I purchased the "Husky man" headlight decal separately. I still had the original 1886 "Husky dog" decal that came in Sam's kit and my original plan was to sell it. As I was looking it over again, I realized just how much nicer quality it is. You'd have to see the two in person to compare but it made the "Husky man" decal look like a sticker while this one, a heavy laminate. Secondly, I realized the brown matches the grill to a standard that even Mom would be proud. I knew that I couldn't replace this particular decal in the same quality version either as it can't be purchased individually from Sam; so off came Mr. Husky man with a good fight. :-( I may in the future resort back if I can find a nicer quality version of him some place, but for now it just seemed like the right thing to do. Sometimes you almost get the sense that a machine can speak to you and I can't explain it, but after putting it on it just seems to seems to be more complete.
Out of curiosity, which headlight decal do you like better? It won't hurt my feelings either way. I'm just curious to get a second opinion.
VS
I hope you don't mind the other tractor in the pics. I wanted to get some new photos with the new two together.