Discussion Starter
·
#1
·
About a month and a half ago, I picked up this rig. Had no motor.
Since then, I've tinkered on it, an hour here and there. It had been repowered.
The engine mounting plate was wrong, and the drive shaft had been shortened.
I also had to relocate the oil drain plug off the bottom of the oil sump on the 16hp
Kohler K341 I am putting in.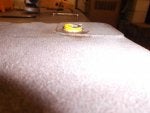 I got it fired up last night, but not getting any action out of the Sundstrand
transaxle. It's a 90-1155 LH. I notice that it had an old MF filter, so I changed that, making
sure to fill the canister with ATF. Filled the rear end with ATF. (it was down 2 quarts) I had found
earlier, that the oil level plug was loose, and the upper end of the suction line was also leaking.
I've poured about 3/4 of a quart of ATF into the pump via the aux return port, and raised the rear
of the tractor, so the suction line port on the reservoir was higher than the filter.
I'm not getting any action on the lift cylinder either.
I guess my first question is, should the LH on the charge pump be on top. It is possible
that was changed with previous repower.