Bolens1000 wanted pics, so here goes!
This is the first Power Ho Deluxe (Model 12BB 01) I ever got. It came with the factory sulky that you can see in the rear of the pic. It also came with a sickle mower. It does (barely) run, but has carb issues which I hope to fix soon, then tear it all apart, and restore it.
This next one is the Power Ho (Model 12B 01)I picked up yesterday. It is not a Power Ho Deluxe. Note that the gas tank just sits above the motor; there is no grill or hood, and no pretty little teardrop gas tank. It does fire and putter very reluctantly, and undoubtedly also needs carb work. The engine on it appears to be original, although it is a Briggs & Stratton NPR6 instead of the B&S 8R6 engine that Sonny's Bolens lists for this tractor.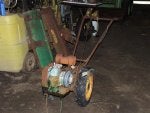 Here is another shot of the same tractor, with the very rare air compressor attachment propped up with the tractor.
This third one (my second Power Ho) is also a Power Ho Deluxe (12BB 01) and has the B&S 8R6 engine. I have not investigated why it does not run. I do have the grill and hood piece for it. I bought this one a while back primarily for parts, and to get some additional attachments relatively cheaply.Interestingly, the first Power Ho I got has a cast iron grill, and has a lower serial number than this second one, which has the cast aluminum grill, although some folks have told me that the progression was the other way around. With this tractor, I got the air compressor, another sickle bar mower, a moldboard plow, a disc harrow, a cultivator, wheel weights, and a dozer blade.
Last, but certainly not least, here is a pic of the snowcaster attachment for a Power Ho that I also got yesterday. I think these also would fit the Bolens Gardener walk behind, but I am not sure about that.