A little back story. This Suburban was dropped off at my grandfathers in the early to mid 70s. It was determined that it would cost more to fix for the owner than it was worth so he left it. grandpa replaced the engine with another one that came from who knows what, and then he did it atleast 3 more times until he stopped using the thing about a year he passed away. Since I have been old enough to recall it has been used to cut his grass via a deck, dragging 3 push mowers made into a pull type mower, or running a sickle bar mower off the front. After grandpa passed away it was shoved along the fence line with all the other tractors he accumulated over the years. I decided last spring to drag it out and convert it into an offroad mowsheen, or an offmowder, ridden by a mowron... which ever pun you prefer.
Here it was as I found it. 6 years untouched
YES THE ALLIS b10, and the AMF in the above photo have been pulled out and sent off to collectors already
I poured some gas in it and hooked a battery up and it came alive. But the engine which was a 10 horse brigs with an up draft carb surged badly. I tore the carb down for a rebuild and even after that, it still surged and I determined the carb was just worn out, as there was alot of slop in the rods. $100 for a new ebay carb.., In grandpa fashion, motor swap... So I found a deal on 7 old sears tractos
None of which had an engine I was happy with. ( they got parted out, sold complete, etc, and I ended up making over $500 profit on the $250 purchase of them all, and still have a ton of spare parts)
While the engine search continued I went ahead with other parts of the project.
I Dropped the transaxle, split it apart and welded the spider gears on it for more traction.
Put fenders and seat on from one of the parts tractors.
Recentered a set of 10" atv wheels using the centers from a set of 8" tractor wheels and tossed some used 22" front tires I had from an old atv on and mounted a set of 26" tall rear atv tires on a set of 8 inch wide wheels.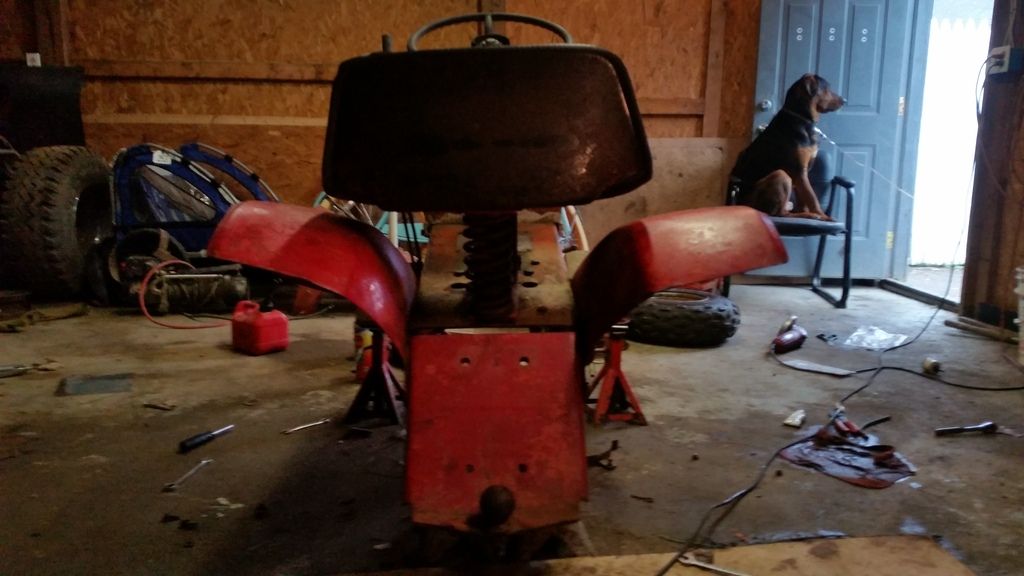 ( yes thats my crazy dog sitting in his garage chair)
Rear sits 39" wide, front sits at 40" and 22" tires clear full steer and full axle pivot.
Atleast an engine I like
14hp predator from harborfrieght. Picked up for $100 off craigslist.
To fit the 14 horse in had to remove the fuel tank and battery tray.
New battery location.
Had to notch the grille to clear the air box. This side was already cut by my grandpa to clear the air filter of the 10hp briggs I took off so no harm no foul.
Throttle hooked to the old deck height lever.
Its first trip out of the garage...