I bought this 1992 Kubota B7100HST-D a couple weeks ago after looking for several months for the "perfect" compact tractor (Hint: It doesn't exist).
However, the Kubota seemed to be a good buy...front end loader and backhoe, 4wd, HST, fairly low hours (850).
I got it home and took it over to a friends to help him level up his backyard--He had brought in a bunch of fill dirt so level out a badly sloping yard, but it ended up looking like the hills and vales of Disney's Matterhorn ride.
Add to that he has more stuff crammed in his backyard than I have in mine... believe it or not...
Anyway, we got down to work by me working to level a large mound of dirt that had been in place for 5 or 6 years... plenty of stuff in the way, including a Toro 223D mower, several David Bradley tractors and implements, and various and sundry items from IHC Cubs, Gravelys and you name it.
I started out by scooping dirt out of the pile and dumping it into low places in the yard so I could move around with out having my teeth jolted out of my jaws.
--BTW Does anyone know what the two upright pins on the top of the loader are used for? The have a hole in them for a hairpin. There's also a hole on each side face at the top, and a nut welded to the top of the loader that is in line with the hole. A 1/2" x 13 tpi bolt will screw in about 3 turns, but it's actually a 12mm metric thread--not sure of the pitch. Anyway, if anyone can enlighten me on what this is used for, I'd appreciate it.
It took a little while for me to get the hang of things, but pretty soon I was whittlling down the pile until a mountain had been made into a molehill.... well maybe two or three molehills....
Here are some pics of some of the "treasures" in his yard--
I've forgotten the name of this little dozer, but it has a Wisconsin engine with vertical twin cylinders, a T92 transmission a'la Power King, and real wet steering clutches. It puts the Struck dozers all to shame... it's for sale, but I'm not sure it can be easily moved right now as the T90 tranny's were bad about collecting water if the shift lever didn't have a seal over the top of it where it goes into the top housing.
A Gravely 5200 with numerous attachments, including a regular tiller, a Rota-Hoe?, a tool plate, cultivator, and snow blade (partly seen), etc.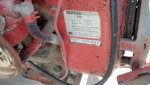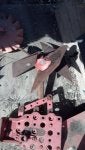 A home made towable backhoe with a 5 hp gas engine.
Numerous David Bradley tractors and implements and other miscellaneous "stuff"...
Anyway, it was a good day's work and I really appreciated my little machine.
One sour note on the whole deal....
I took the machine to the car wash after working it (the engine was cool because I had just driven 40 miles with it), then offloaded it into my yard. A couple days later I was checking things out to familiarize myself with it when I pulled on the black, stepped grass screen in front of the radiator. It was loose and I was way upset when I saw dried grass packed in between the radiator and oil cooler so thick I had to dig it out with a stick... PLUS, just about every opening in the radiator was clogged.... Grrrrrr!!!!!!! The dealer I bought it from said he would service it before he delivered it to me... I assumed (silly me) that that would include checking out the grass screen and radiator, but maybe not.
I carefully cleaned all the grass out, then gently brushed the radiator fins with the edge of a metal brush to break up the caked-on dirt and grass--pretty much the same stuff as the adobe that people used to make into bricks for home out here... mud and grass dried and packed into wooden forms. I then blew compressed air through the radiator from the fan side--- a LOT of dust and dirt came out... this really makes me upset since the dealer, or at least the dealer's mechanics, and the PO, didn't do rudimentary PM as least as far as the grass screens go. These little machines don't have a water pump--the cooling is through the thermo-siphon principle--hot water rising in the radiator is cooled and flows into the engine and the process repeats itself.
Anyway, I hope nothing serious has happened as a result of this.
FWIW,
Smitty