The rear lift cylinder on the Snapper 1655DD started leaking out the through the rod seal. I took the cylinder apart so I could see what orings and seals were needed. I actually found that partstree had a seal kit for it. The original parts kit has been superseded by another kit so I ordered one. It finally came in and the kit is different than the original by quite a bit. When I took the cylinder apart there was an Oring on the end cap, Oring on the gland, O ring where the rod exits the cylinder and then a lip seal.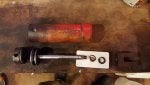 What came in the kit was a Square ring, a Lipped Oring (?),and what I think are 2 backer rings. These obviously fit the end cap and gland but I have no idea in what order. Also in the new kit was another small oring and white backer ring that go in the shaft hole. Again no idea which order.
What is missing is the lip seal and I do not know if the small Oring and Backer take the place of the lip seal or if I need to source a new seal or not.
Lipped Oring (?) with where I think the 2 backer rings fit
Lipped O Ring By itself
Square ring that I think fits on the end cap
So I need some help in that I need to know what order the backer rings need to go in and if the lip seal is needed now that a backer ring has been added to the small Oring.