CCC built. They used alot of leftover IH built parts and IH tooling to make those. Does it have the cast iron center section like my CCC built 782?
It should have the better fine splined axles and aluminum axle tubes. The old cast iron axle tubes were prone to breaking especially if ya pull with one. Instead of just breaking like the cast iron axle tubes can do, the uluminum axle tubes can flex a bit. And the fine splined axles don't break or twist off or twist the splines in the carrier nearly as fast.
Those relief valves require machining to rebuild. You have to carefully machine the small end off on a lathe and replace the O-Rings and springs and Oring backer if it has gotten brittle and cracked. And then weld it back on and reshape it on a lathe. I seen a thread years ago that someone had rebuilt a set at home on a small lathe. He cut the tip off and threaded it and made a new threaded tip and used red loctite to secure it in place. I think it was on one onlycubcadets.net but it might have been on the old IHcubcadet site that got whipped and revamped a few years ago.
Once you rebuild or replace 1 the other one will start leaking as well. One on my 1541 was leaking when I got it and I replaced it with a good used one. I took the other one out and cleaned it and it was good for about 2 weeks and then the tactor abruptly stopped moving forward. It wasn't leaking fluid so I think 1 of the springs had broken or collapsed. It lost all forward momentum because it was basically stuck in Bypass. I replaced it with another good used one and got it moving again but it's hard to tell how long they will last.
This is probibly the best option for relief valves even if they are not leaking yet. Send them both in and have them rebuilt with Modern "VITON" o-rings, stainless steel springs (that will not get weak and collapse or break from rust), the Teflon o-ring backer and 1- 7/16" Grade 25 ball bearing.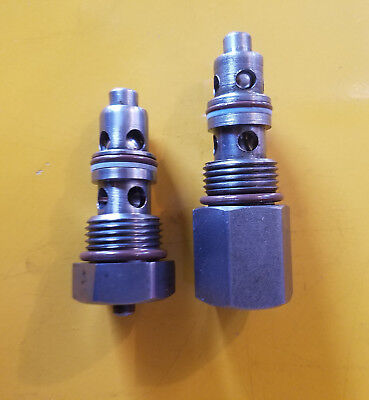 You can now have your automatic or manual relief valves professionally rebuilt by a veteran machinist! If you have extra valves that leak,you can now add value to them buy have us rebuild them. I couldn't be happier.