I was attempting to fix the exhaust on my truck today since it was leaking and making a racket. I originally thought I just needed a new piece of pipe to bolt onto the end of a 90 degree elbow I got coming out of my muffler that I put there a few years ago after the tailpipe rotted off of my truck to get the exhaust out from under my truck. So, I got a new pipe from NAPA to bolt on and finished up that part of the fix, only to find a small rust-out hole on the exhaust hanger just before the muffler. :wallbanging: So, I figured this would be as good a time as any to try out my new Arc Welder that I got last Christmas from a friend of my dad's. It should be good practice and it will be hidden so I don't care what it looks like when it is done, so long as it quiets the truck down.
So, I dragged out the welder (it is a Lincoln flux core wire feed arc welder, 110VAC) and my new Eastwood air angle grinder that I bought on eBay. (It seems to work really nice. I originally bought it to cut the fenders off of my trailer, but it worked well with a grinding wheel to try and clean up the rusted pipe as well.) So, I tried to clean off as much rust as I could to get a good contact to weld to. The only problem is, I found out that I can't weld worth a $%&#!!! Here are the before and after pics of what I'm working on:
The welder and my cutoff tool:​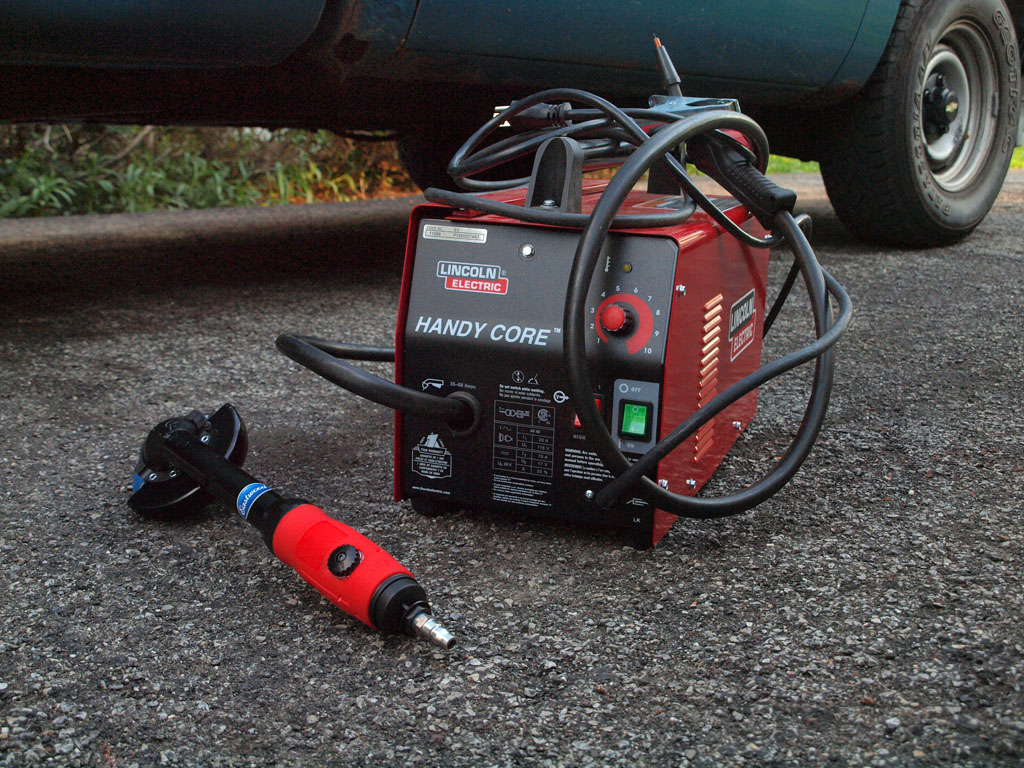 The rest of the exhaust I bolted together earlier:​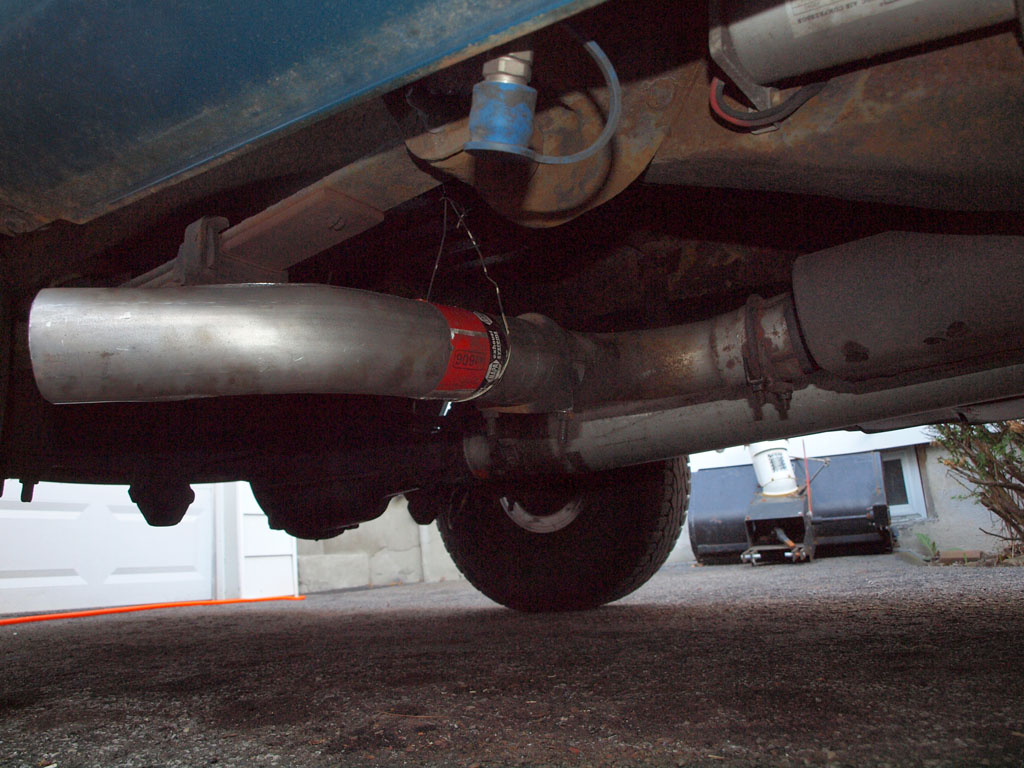 ​
The hole by the exhaust hanger before the muffler that I'm trying to weld after I ground it down a bit:​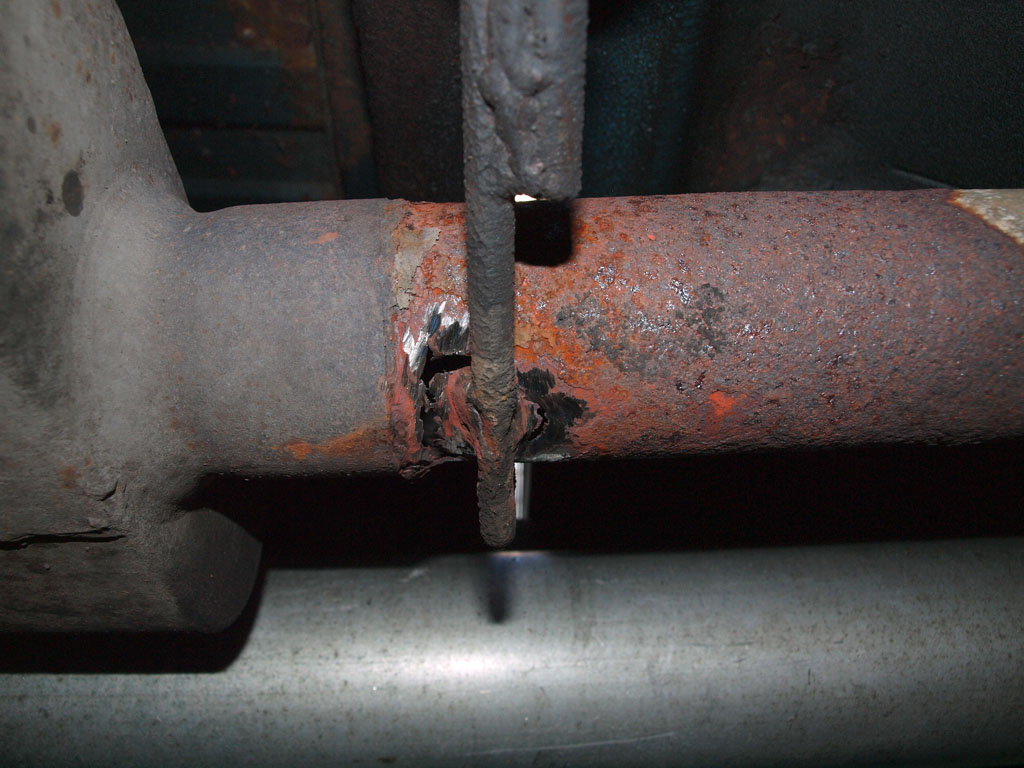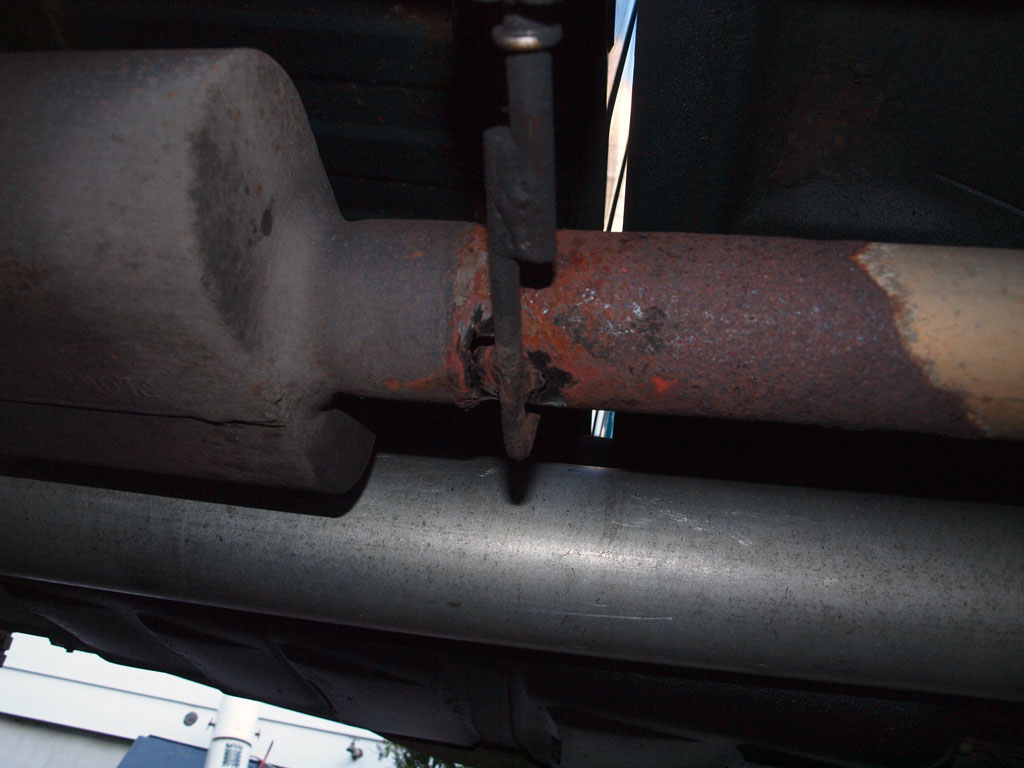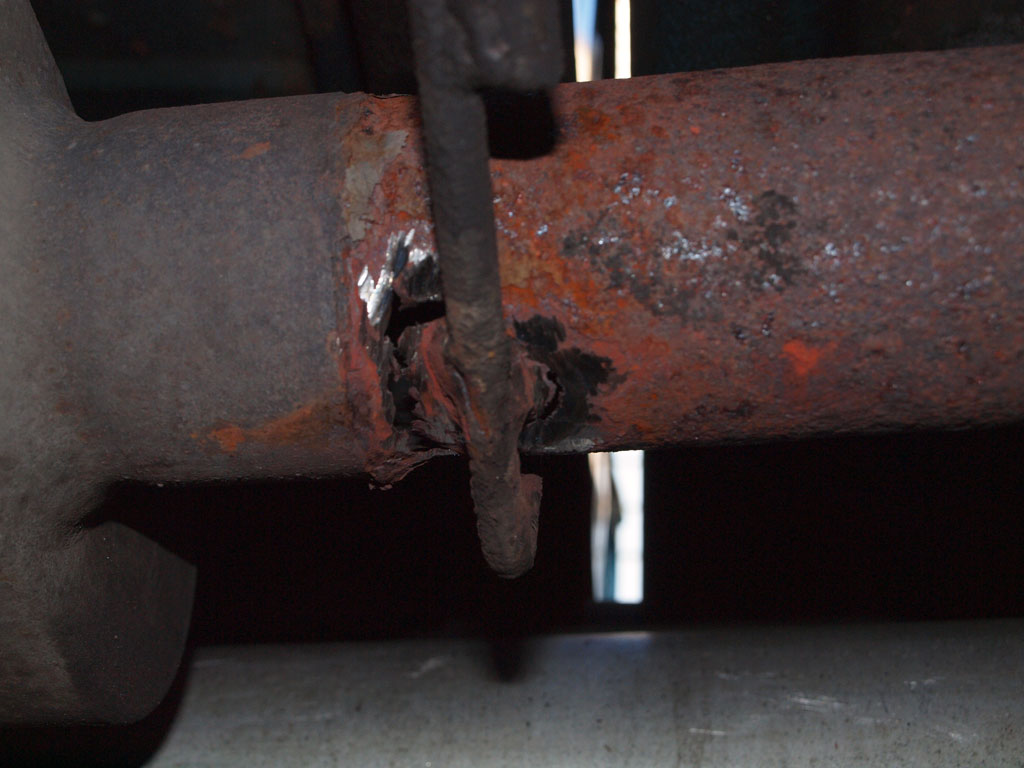 After about 15-20 minutes of attempting to weld the hole up, this was the $%&# job I was left with.​
There are still holes there and I hate this beginner "booger weld" crap job I did.​
What am I doing wrong and why is it welding like garbage?​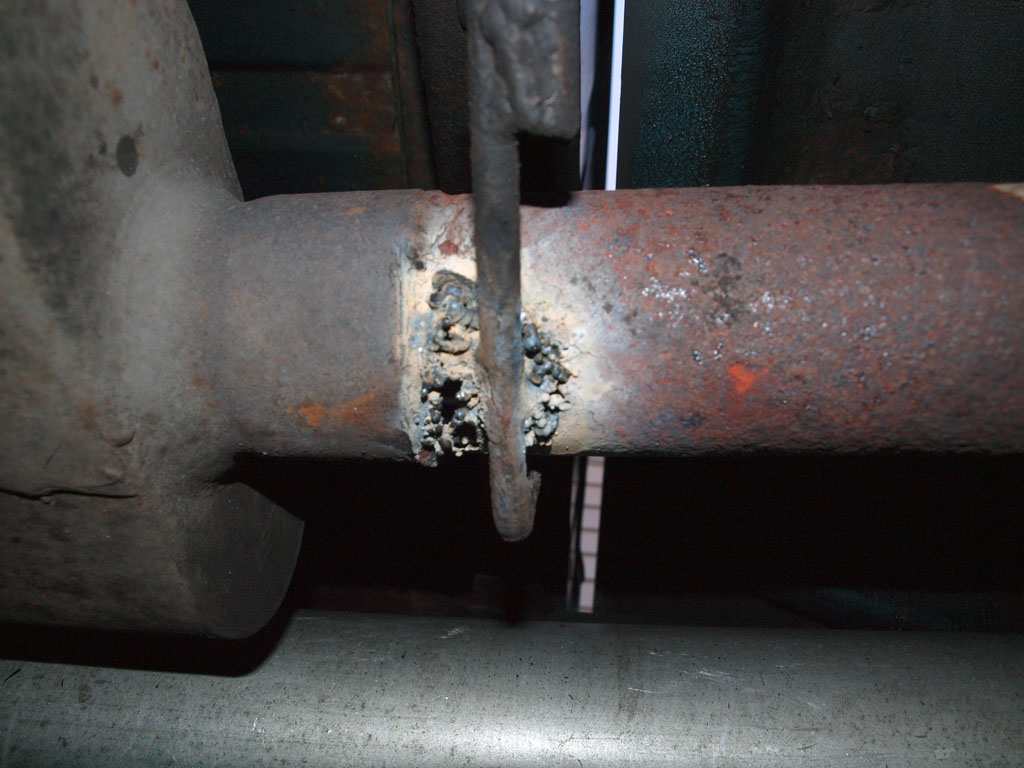 Here is a closer pic, but it is a bit out of focus since the camera didn't know what to focus in on:​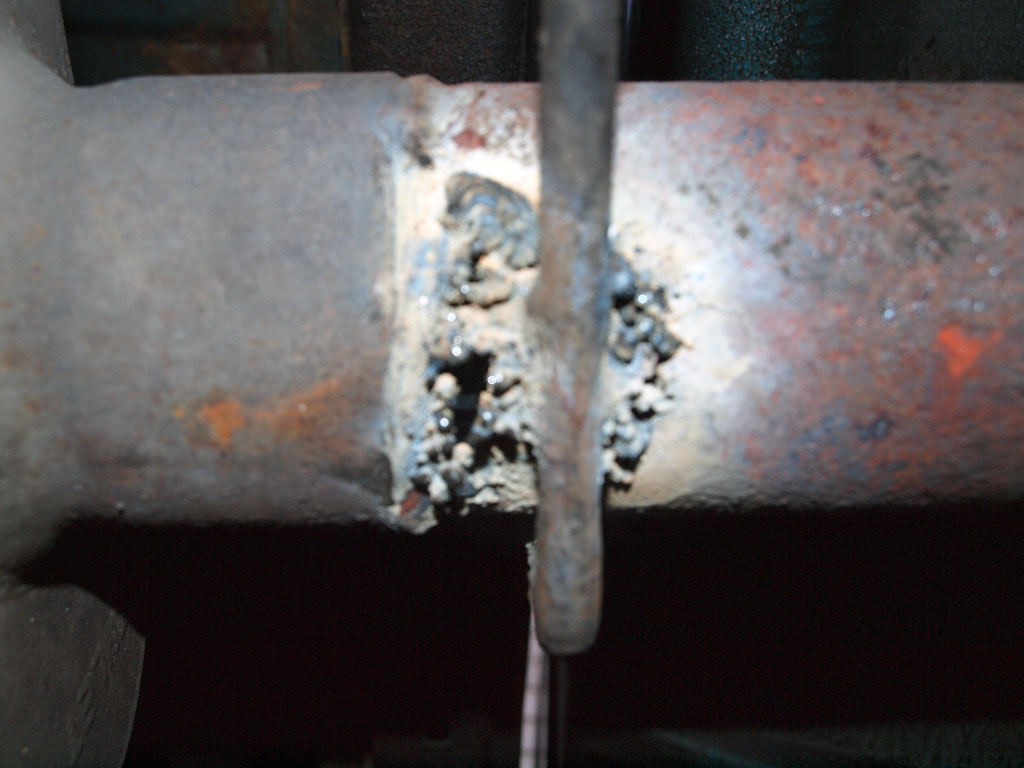 So, I need a little Welding 101 course instruction here on how to weld properly. I'm eventually going to need to weld new fenders onto my trailer and I'd like them to not look like garbage and actually hold them on well, so I'd like to get the kinks worked out on something like this that I don't care as much about. Why are my welds looking like something you'd blow out of your nose during cold and flu season and they're not sticking to the metal very well? It seems like they are just bubbling up on top of the metal pipe rather than melding into the steel as it should be. Is the wire feed too slow or too fast or something? Is the temperature not set right (too high or too low)? There are two switches on the front of the machine and I had them set to "LO" and "1". (The only other options are "HI" and "2", obviously...) I had the wire feed set to 2 and it seemed to feed much to slowly, so I turned it up to 3-4 and then it seemed to come out way to fast to be used up and I'd end up with long "hangers" of rod hanging off of the pipe that I'd have to cut off. I'm not sure what I'm messing up and why it looks so horrible, unless it is just too hard to weld to the rusty exhaust pipe and that is part of the problem. I did notice that it seemed hard to strike an arc at times depending on what part of the pipe I tried to contact the tip of the gun with. Maybe I didn't do a good enough job grinding down the pipe before I started?
Any helpful pointers, pictures, videos, etc. to help me improve my lackluster welding skills would be greatly appreciated. In case you couldn't tell, this is my first attempt at actually welding, although I have seen others weld before and am amazed at some of the welds I have seen people turn out. Obviously though, not having a helmet at the time, I don't actually WATCH them welding and turn my back when the sparks are flying. I value my eyesight too much, lol...
Thanks in advance!