My T66x was leaking at the forward/reverse control and at the point the motor enters the reduction gear box. I found a seal kit online, PRO-ACTIVE Fluid Power, but that's another
thread
. Everyone loves pictures, so here goes ...
Pump innards:
Two words of warning:
1) There are 2 pins that fasten the 2 pintles in the yoke. The manual says to use a 3/16" punch and to tap them until they "disengage from the yoke." They don't go all the way out! They slide into, and come out with, the pintle.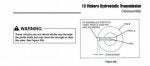 2) the manual says to drive the pintle out by pushing it INTO the case. You can't! There is a lip that stops you. You need to drive them OUT of the case.
Motor innards: